Is it necessary to respond to positive feedback and how to do this for the most beneficial for business?
Not all companies consider it necessary to respond to positive feedback about products and services, preferring to pay attention only to the negative. However, processing such reviews is much more efficient. We know exactly how to respond to reviews in the most productive way, building long-term relationships with regular customers and successfully attracting new ones.
According to the aggregate data of sociological surveys, the vast majority of users necessarily study the feedback from others before making a purchase decision. Nearly 80% of users admit that a response to their post is synonymous with the firm's true interest in users. According to a specialized SEO analytics platform, the vast majority of buyers are extremely likely to place an order with a company that responds to all online reviews. As a result, gratitude for reviews provides businesses with multiple benefits: it increases the lifetime value of each client, provides a greater influx of new customers and, of course, has a positive effect on advertising effectiveness metrics in terms of promotion.
Why is positive feedback so important?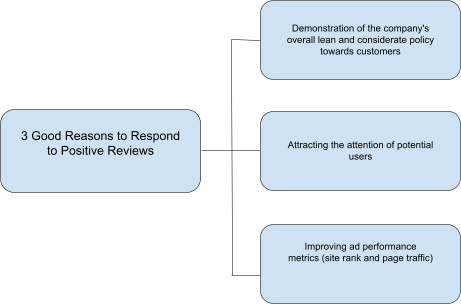 Ideally, consider all of the above grounds in your answer:
Express sincere interest in each opinion, and thank them for the choice.
Show willingness to serve customers, including prompt response to all incoming requests.

Help future buyers with the choice by publishing links to feedback on the most popular resources. The same activity will bring traffic to the site, and raise the page in search results.
Do search engines respond to thanking a client for a review?
About 20 years ago, the world's largest search engine Google introduced a company quality assessment system based on monitoring the format, number and frequency of feedback. Moreover, the system logged all user comments, including activity on marketplaces. Importantly, the more positive feedback, the less significant the negative becomes. Therefore, you need to use every opportunity to encourage customers to share their good impressions of working with your business on all possible platforms. As a symbolic thank you for the review, you can offer a discount on the next purchase, some kind of bonus or token of attention.
Don't forget about map services too – this handy navigation tool often comes with a built-in feedback platform. Each person can not only lay a route, but also share their impressions about a particular company. This is one of the most effective ways to successfully promote in search engines.
How to respond to reviews correctly?
A well-formulated response to a customer review is undoubtedly very important. Dry and formulaic answers and too distant phrases should be avoided. For example, the brighter and more detailed the feedback from the user, the longer the response comment should be. A short impersonal "thank you" will become more targeted if you add a title to it by name and add some detail. The specifics, including the style of response and emotionality, of course, largely depend on the specifics and size of the business, and the peculiarities of the local mentality.
Step-by-step algorithm how to respond to reviews
Demonstrate the company's focus on a specific client. The most logical way to do this is to refer to the initials or nickname of the user, making sure that this is correct (sometimes users call themselves quite non-trivially).
Opinion of an expert from A+ Reputation agency 
In the above paragraph, the answer should be well complemented by the general policy of the company (for example, "We will always try to justify your trust"). You can add some detail regarding the technological process.
Don't forget to express gratitude. In addition to the rather diplomatic and somewhat dry "thank you for the feedback", you can use more emotional language, such as "detailed" or "detailed". The main thing is not to question the honesty of the comment and remember to use different responses to reviews. Ideally, complete your thanks with a clarification of the location.

Write down again all the positive characteristics of your business that were reflected in the review.

Pay attention to details. If the client gives the highest rating, but in their feedback gives some recommendations for further improving the business, stay on the positive wave, without turning gratitude into working out a negative review.

Demonstrate the value of the comment by offering something in return. Of course, management should carefully analyze such bonuses for reviews in terms of business profitability, but as an alternative, you can simply provide valuable insight – for example, a reminder about the company's current promotions (the same "happy hours").
Opinion of an expert from A+ Reputation agency 
In the answer, you can add a little more information, revealing some intriguing details, including selling a subsequent service in this way. For example, to clarify that next week the restaurant is planning a themed event with the appropriate entourage and invite everyone to personally evaluate the transformation of the restaurant.
If appropriate – always encourage customers to take further action – that is, offer to return to the matter.
Opinion of an expert from A+ Reputation agency 
Of course, the components of a response to positive reviews listed above are a recommendation, and will not necessarily be present in every case. It is very important to feel the mood of each user, try to be on his wave and express maximum gratitude for the pleasant feedback.
Conclusion
In today's online community, appreciating a company for positive customer comments is not only the most important rule of business etiquette, but also a source of additional profit for several reasons:
Firstly, such dialogues are taken into account by future clients when deciding on cooperation.

Secondly, such activity on the part of the company increases the loyalty of regular customers.

Thirdly, positive reviews are taken into account by search engines, and an increase in their number, thereby contributing to more successful promotion.
Whatever the example of a positive review, you must definitely thank the author (preferably by addressing by name), add some detail to the answer, express a desire to see each other again or invite to test some new items, remind about promotions (if appropriate). Of course, as in real life, sincerity and warmth are valued on the Internet, so try to avoid formulaic wording and mean "thank you". Let's make the reputation of your business even better together!